Delsyk Design Nifty 430 Kayak!
14′ Sea/Transition Kayak
Value: $1500.00     Starts: 9/1/22    (picture below is not actual winning kayak – color may vary)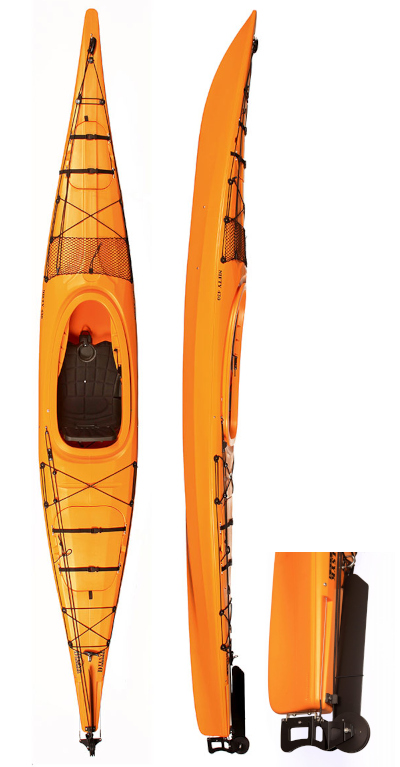 Delsyk has 40 years of design and boat building experience to ensure that these kayaks will be the best you and your family will ever own.
All Niftys are made with the highest quality, color-infused plastic so they will provide years of enjoyment under even the most demanding use.
The Nifty 430 is a medium size sea kayak with its signature double chine hull that gives the boat amazing stability. This kayak is designed so that you can learn the technical paddling skills that will help expand your horizons and ultimately, help keep you safe.
Delsyk Niftys are designed to paddle in a straight line and carve turns easily, just by leaning slightly to put the boat on edge. Their 'dolphin' bows lift up and over waves to help deflect spray, and flush hatch covers and expedition deck fittings help keep the decks, and you, dry. Safety is essential, so the Niftys have sealed bow and stern bulkheads. Accessing storage is easy through large neoprene covered hatches.
Ergonomic deck design and good body position are key to reducing body strain when paddling. In the Niftys' you can control your comfort. The unique seat has a wedge located under the front edge so you can adjust the seat angle and thigh fit. A comfortable backrest is easily adjustable.
Features:
• Performance boats for even the most difficult conditions
• Wedge can Adjust Seat Angle
• Backrest Height is Adjustable
• Optional Back Band
Hatches:
• Front: 12″ x 6.5″ / 30.5 x 16.5 cm
• Rear: 16″ x 12″ / 40.6 x 30.5 cm 
ENTRY FORM BELOW
OPTIONAL – PLEASE HELP US TO LEARN MORE ABOUT OUR DRIFTLESS READERS BY COMPLETING OUR OPTIONAL 22 QUESTION SURVEY (4-6min)  OR   SCROLL TO THE END TO FINISH ENTRY.

YOUR PRIVACY IS OUR TOP PRIORITY
The Driftless Area Magazine only uses your answers for internal purposes. We DO NOT share this information with any other entity, including the sponsor (except contestants names for selection purposes). Your details ARE NOT passed on to any third parties.
---
(*Required Fields)  Official Rules